Charlemont Man Listed on Revolutionary War Monument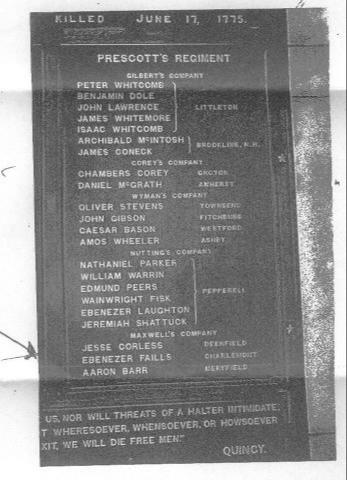 Over the past ten years I have catalogued and photographed veteran memorials in all 351 cities and towns in Massachusetts. Recently I found four very large bronze plaques in the Charlestown section of Boston titled "1775 Soldiers Memorial". Located at Winthrop Square, which is only a few hundred yards away from the Bunker Hill Monument and surrounded by Winthrop, Adams, Common and Park Streets.
This Soldiers Monument was commissioned by the City of Boston and erected in 1889. The memorial bears the names of the Americans who fell at the Battle of Bunker Hill. I thought you would be proud and interested to know that the plaque lists Charlemont resident Ebenezor Faills who served with Maxwell's Company in Colonel William Prescotts Regiment. Colonel Prescott was in command at that time. Ebenezer died in the Battle of Bunker Hill with fellow soldier Jesse Corless of Deerneld. I have attached a photocopy of the plaque for you (shown above). The Charlemont Historical Society may be aware of this but I thought I would send it along to you for posterity.
Dennis Rindone
Erving, MA